Arrive into Tortola, the capital and largest or the islands, with beautiful white sand beaches and tall rugged mountains. Your first day is busy meeting your fellow shipmates, settling aboard and preparing for diving. Enjoy the pool and beautiful Caribbean atmosphere.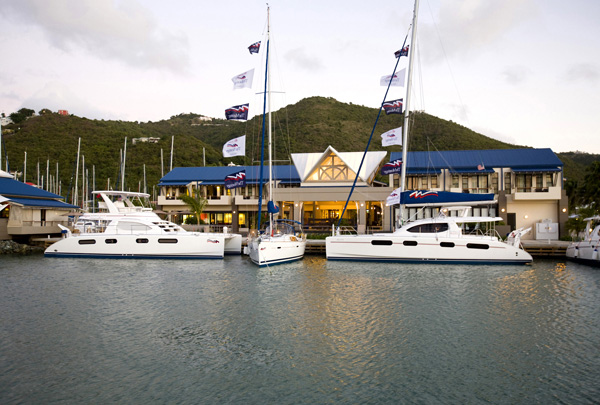 After a sailing lesson and getting to know your Leopard sailing catamaran, hoist your mainsail and point across the wind to Norman Island for snorkeling in the Pirate Caves (which were the inspiration for the novel Treasure Island). Check-out dives get you comfortable with your skills if it's been a while since you last blew bubbles underwater, or learn to dive in the calm and protected waters of Benures Bay and discover how easy and comfortable SCUBA diving is. You are settling into life aboard and having a blast.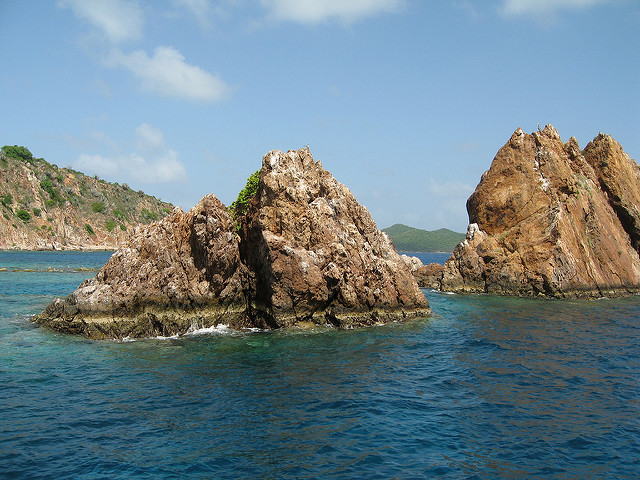 Now it is up-anchor and away for a lesson of upwind sailing inside the Sir Francis Drake Channel as we zig'n'zag around islands to Virgin Gorda. The protected Pond Bay offers an afternoon for water-sports opportunities and some of the best sunsets in the Caribbean.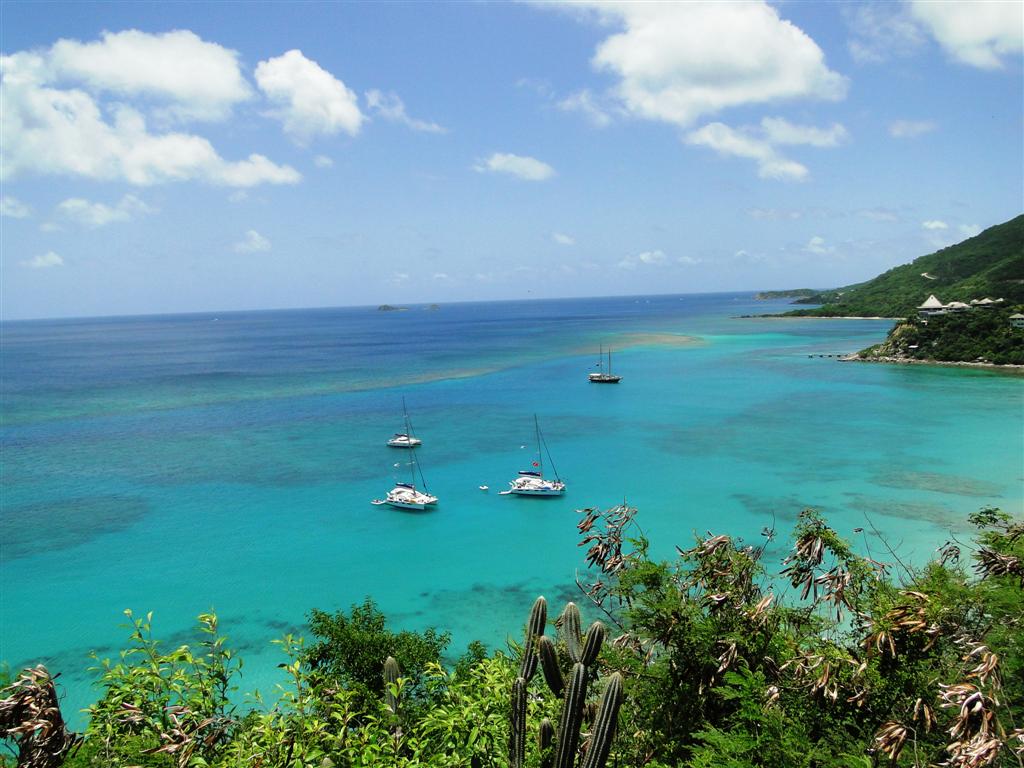 You soon master your basic SCUBA skills and begin working on topics such as underwater navigation and wreck diving. Dive training, water sports like knee boarding and water skiing make up this day.

We hike to the rocky intertidal for biology investigations and assist in a community service effort to clean up the shoreline from plastic debris. On the way back we fulfill many life-long goals in an action-packed extravaganza of a salt pond mud fight. A short sail to Mountain Point and we start developing our fish and creature identification skills with our resident marine biologist. Multimedia presentations and underwater communications units aid us in our knowledge quest of SCUBA and biology.

Up early to visit one of the most stunning sites in the BVI's, The Baths. Gigantic granite boulders and half submerged rocks line the southern seashore, creating grottos, tunnels, and arches - a wonderful place to swim, jump of rocks, and explore. Sandy beaches are lined with coconut palms, adding to the dramatic effect. Lunch is at Spanish Town, the second largest town (after Road Town), on the British Virgin Islands. Also known as The Valley, Spanish Town offers numerous shopping possibilities. Spanish Town was originally settled by Cornish miners, and ruins of the chimney, boiler house, cistern, and mine shafts can be seen. It served as capital of the territory until 1714, when the government moved their offices to Road Town. When our bellies are full we 'go to the Dogs' for some afternoon diving.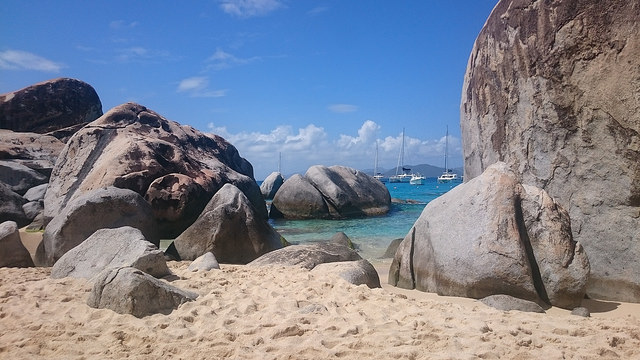 Day of the Dogs. We start with a morning dive at "The Chimney" - Great Dog. It is a great place to fine tune those natural navigation skills. Project Ocean Survey, Bronco Billies, the Flintstones or Joes Cave follow. When we get our days allotment of nitrogen, it's time for a nice slow downwind sail to Marina Cay. A small island republic (Cuervo Nation) with tropical gardens and its own culture and a unique history. Famous for Robb White's Two on the Isle, a true-life love story mixed with Robinson Crusoe. Everyone visits the unique gift shop before heading to the beach restaurant for desserts. The "View-Master menu" is a throwback to our childhood and so is the tasty key lime pie.

Mangroves and Guana Island is great for water skiing, wake boarding, and kayaking in its perfectly calm waters. Underneath the surface we explore Grand Central Station cavern where nurse sharks are commonly seen (they don't bite). Hiking ashore brings us to a vista overlooking the Atlantic with expansive views. At sunset, be sure to sit with your friends at the front of your boat to watch for the green flash. Night dive in a rocky outcropping filled with a carnival of fishes and invertebrates.

All of the sail training get put to use on our exciting tack'o'rama sail to Cooper Island. Introduction to diving the wonderful shipwrecks in what we call Shipwreck Ally. This quad pack wreck site consists of the Marie L, a cargo boat intentionally sunk in the early 1990s, and the Pat, a tugboat sunk a few years later that now lies up against the Marie L, the Beata (sunk in 2001) a large upright Tug and the Island Seal (sunk in 2009) a turtled barge. The Marie L. is a 75-foot long cargo boat, which was owned by a local family; she sits in 85 feet of water. The boats are sitting upright and are actually resting on one another with a narrow gap between them, which divers can swim through. The Island Seal lies upside down in the sand, allowing exploration of her hull and propellers, and divers can also swim through underneath the wreck. This site is also known for the life on its sandy bottom - conch run through this area (you can see their tracks), colonies of Garden Eels dance in the sand around the wrecks while southern stingrays doze, their eyes just visible beneath their sandy mantles.

We start with a before breakfast dive of the Wreck of the Royal Mail Steam Packet Companys RMS Rhone. This is one of the most highly rated shipwrecks in all the Caribbean. The wreck is situated on the lee side of Salt Island, spread out over a couple of acres. The Rhone, a 310-foot long iron-hulled steam-sailor, was built in England in 1865 and was sunk by a hurricane a mere two years later on October 29th, 1867. The Rhone was of a hybrid technology? powered by both sail and one of the earliest steam driven propellers. It looks exactly like people expect a historic shipwreck to look like. The long sleek lines of the intact bow section, lying on her starboard side in 78 feet of water, are clearly visible. The pointed bowsprit, the long iron mast, the lifeboat davits and even a signaling canon are easily spotted. Inside the wreck schools of fish flow around the support beams, shafts of light penetrate through portholes. On the "ceiling", a liquid mercury-like layer of trapped air cascades past beams covered with brilliant orange cup coral. Snorkelers floating on the surface above can easily see the huge propeller, the aft mast and a line of portholes. The Rhone is also a film star - she was the filming location for the treasure diving epic The Deep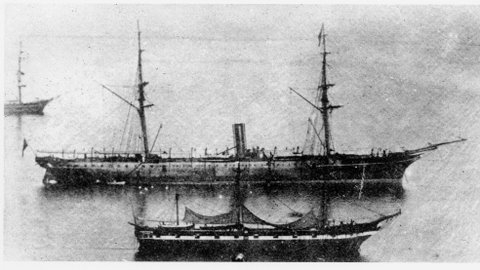 We get to dive some of the clearest water in the BVIs today. Starting at Ginger Island we dive a 'Alice in Wonderland' named for the mushroom shape of the corals. These are deep dives so we will be working on the Deep Diver Specialty course. We move around Ginger's Backside which is almost always flat calm, providing a restful location for surface interval and second dive. Again, a huge healthy coral reef runs the length of the island starting at about 25ft under the boat and falling away to the sandy bottom at about 50ft. This is usually a very slow paced dive, giving the group plenty of time to explore the holes and ledges in the reef for lobster, octopus and the occasional turtle - also look out for small stingrays out on the sand. The days not done. We hoist the sails and we go up to the Bitter End Yacht Club for dinner and music.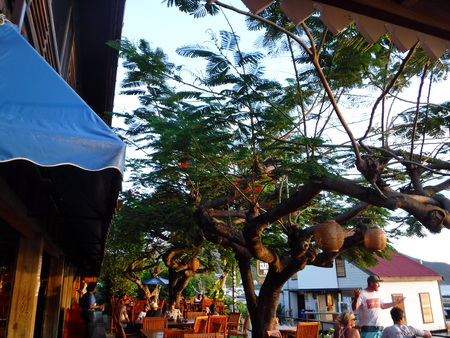 Trim your sails early for a fast sunrise sail taking us across the wind 20 miles north to fabulous Anegada. We make a race between the boats in getting their first, so sail fast! A "kick-back sand-attack" day of barrier reef exploration, flamingo spotting, beach volleyball and hammock siestas awaits. The reef is full of amazing arches and passages where we often see nurse sharks, sea turtles and manta rays.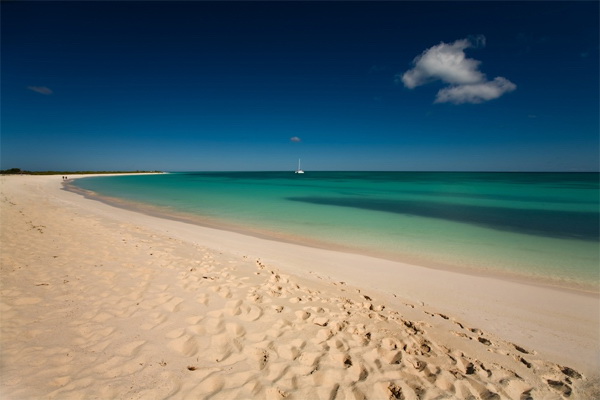 Departing the flat island of Anegada we are summoned, like all the marine life for miles around, to the 247-foot sunken freighter, the Chikuzen, where we blow bubbles under a spiraling circle of barracuda and jacks and watch for the massive 400-pound Goliath Grouper. This wreck beckons marine life from miles away and is a great place to get some awesome photos with a digital camera (helpful to get people to believe that the grouper really was that big!). You're not too old to play at Green Cay's Playgrounds, a dive site where we often come face to face with dolphins and see elegant eagle rays gliding by. Do a reef fish survey for project REEF and help science. Your team has really come together; it's time to go ashore for an evening of beach camp fire and limbo with reggae dancing and steel drums.

From the cresent Cane Garden bay we hike to the top of the Virgin Islands at Tortola's Mt. Sage National Park and explore the rain forest permeated by the smell of its namesake. Lunch at Jimmy Buttet famous Rhymers Cheese burgers in Paradise Afternoon sail to Sandy Cay for some sandcastle building and exploration.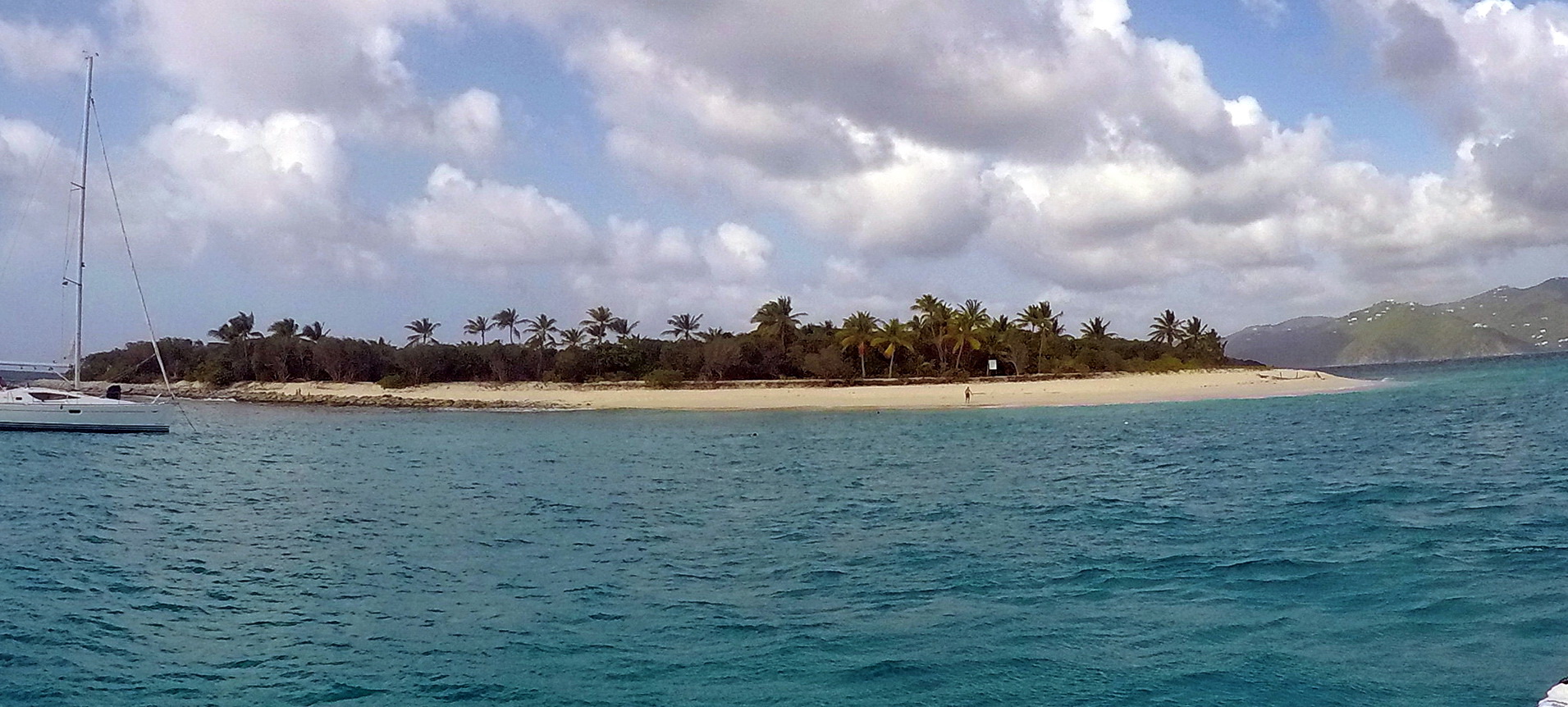 Along the desert island of Tobogo, we hike to the bird colony to watch pelican, frigate, and tropic birds dive-bomb for fish. The diving is fantastic with sheer walls covered with black coral and sleepy nurse sharks slumbering under the reef ledges.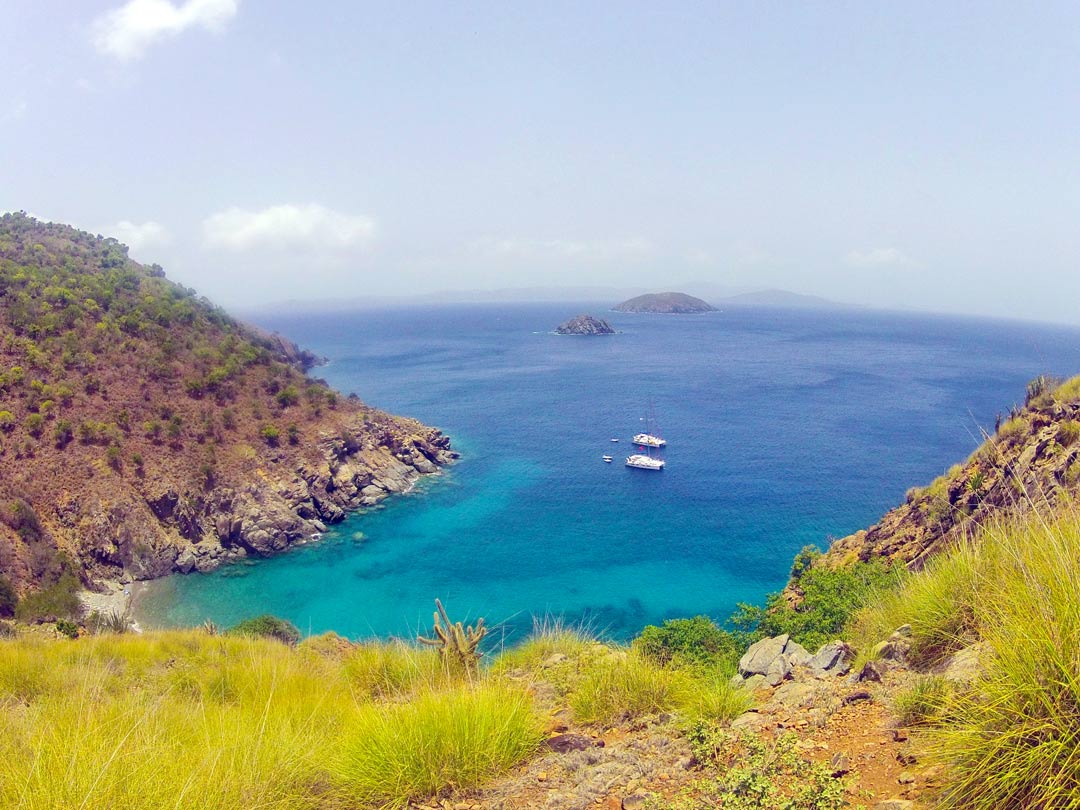 Congratulations, you are quite the diver now, we finish up Divemaster certification and head in to West End, the pastel enclave, to refill on ice-cream before performing a perfect series of fast tacks with your now smoothly operating crew beating upwind through the Narrows.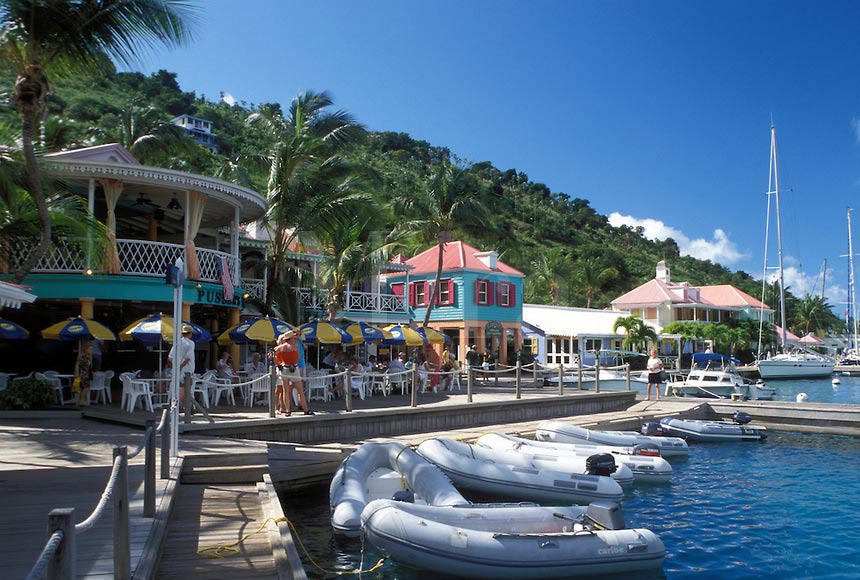 While the end is near, the diving still gets better exploring a series of top sites we visit a secret wall of black coral and maybe drift-dive the crystalline blue-water south of Norman Island to spot big pelagics.

The last dive before we sail back to home port. We have a farewell pizza bash ashore and reminisce with your new close friends on the fantastic adventures shared together.