Learn to Sail a 46 foot catamaran on your Odyssey Expeditions Adventure, with you at the helm!
Stepping aboard a sleek yacht and casting off from the dock excites even the most seasoned of sailors, but you do not have to be an 'old salt' to share the awaiting adventures. As you and your shipmates hoist the sails, you begin to discover the potentials of both the regions we visit and ourselves. There will be few moments when you confuse your voyage with a pampered cruise ship vacation or a day at a theme park; these are real adventures where you make things happen. The responsibility and joy of active participation and doing things on your own allows you to acquire valuable lifelong skills and accomplish goals. Upon return to port you will have uncovered confidences and abilities that would give the 'old salt' a run for his money. Fill your sails!
General Sailing Knowledge
Vessel Parts
General Sailing Terminology
General Sailing Theory
Points of Sail
Navigation
Course Plotting
GPS Use
Hazard Recognition
Sailing Boat Handling Skills
Helmsmanship
Steer Upwind
Steer Downwind
Tack with Commands
Jibe with Commands
Steer by Telltales
Steer by Compass
Sail Handling
Grinding the Winch
Releasing the Winch
Tailing the Winch
Trim by Telltales
Power Boat Handling Skills
Anchoring
Mooring
Docking
Safety
Heave-to
Man Overboard
Reefing
Equipment Checks & VHF use
Seamanship Skills
Coil & Throw a Line
Knots
Bowline
Figure 8
Cleat Hitch
Clove Hitch
Square Knot
Sheet Bend
Slip Knot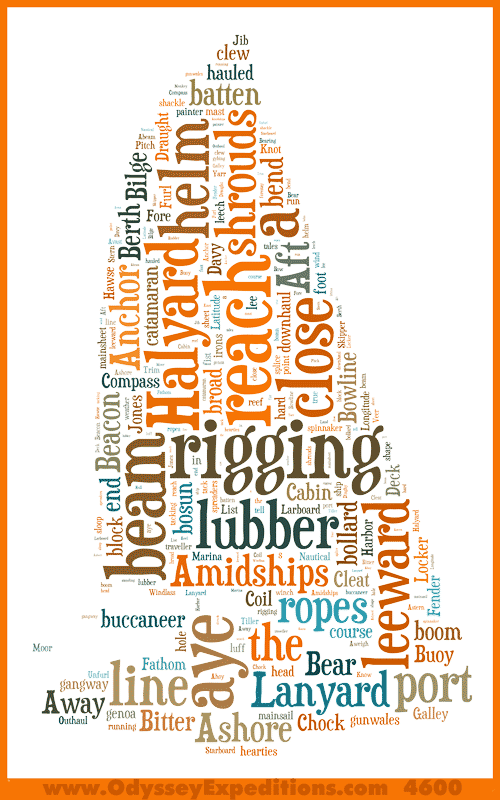 You don't have to sail like this (a race in Martinique)
Teen Summer Educational Scuba Diving Marine Biology Camps
New Discover Adventure 14-Day Programs for 2019!